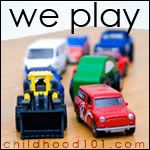 Today, We're playing along with
Childhood 101
again. This time, I brought out a bucket of stamps that my mum passed to me a couple of months ago. We haven't gotten to using them before today, as we've been busy settling into our new house, and with Bronte's ear infections.
However, with all the rain thats been around, i didnt really feel like letting the girls outside in the mud.
So, stamping it was!
Elliott even went a step further, and tried to colour in the pictures she had made.
What has everyone else been playing at this week?